Bank Robber
The first bank robbery in United States history took place on March 19, 1831, when Edward Smith stole $245,000 from the City Bank of New York, using a set of copied keys.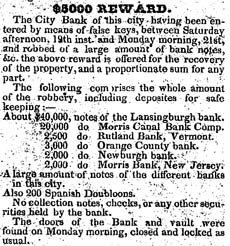 Edward Smith was the first indicted bank robber in the U.S., as well. He spent $60,000 before he was caught and sentenced to five years hard labor on the rock pile at Sing Sing Prison.
The first armed robbery using a "getaway car" took place in Paris on December 21, 1911 when four members of the Bonnot Gang used a a Delaunay-Belleville automobile they had stolen a week before
to escape after robbing a courier who was bringing cash to the Société Générale Bank. They got booty equal to 5,126 francs, but the rest of it was composed of securities.
The first robbery by Bonnot's Gang on December 21, 1911
On January 22, 1976, a guerrilla force blasted into the vaults of the British Bank of the Middle East in Bab Idriss, cleaning out the contents of the safe deposit. The boxes of cash and other valuables were estimated by former finance minister Lucien Dahdah at $50 million. It was the single most lucrative bank robbery in history, occurring during the worst civil unrest period ever in Beirut, Lebanon.
The largest ever bank robbery involved thieves digging a 256 foot-long tunnel 13 foot below street level, which ended directly underneath the Banco Central in Fortaleza, Brazil, on August 6, 2005. The thieves seized 3.5 tons of bank notes worth about R$ 160 million. In the aftermath of the burglary, of the 25 persons thought to be involved, just eight had been arrested, and about R$20 million recovered.
The world's oldest convicted bank robber is J.L. Hunter Rountree. At the age of 91 he stole $1,999 (£1,243) from a Texas bank. He was sentenced to 151 months and died in prison a year later.
A bank robbery that takes place out of office hours is classed as a mere burglary in the UK.
Every day, 20 banks are robbed and an average of $2,500 is taken.
Half of all bank robberies take place on a Friday.
The most common time for a bank robbery is Friday, between 9 and 11 a.m. The least likely time is Wednesday, between 3 and 6 p.m.