. Franklin Haney, representing his company Nuclear Development, LLC., bids against Aaron Abadi, the CEO of National Environmental Group representing Jackson Holdings, during an auction of Tennessee Valley Authority's Bellefonte Nuclear Power Plant in Hollywood, Alabama, on Monday, November 14, 2016. Nuclear Development, LLC., won the auction with a bid of $111,000,000.00 entering them into a contract to purchase the currently non-operational power plant. The purchasers stated in a press release that the project is expected to require an additional investment of up to $13-billion to complete and will create over 3,000 temporary construction jobs and an estimated 2,000 full time jobs when fully operational.
After Franklin L. Haney made his first million-dollar contribution to a super-PAC, his dream of owning a nuclear power plant took a big step forward.
That gift went to a group to help re-elect President Barack Obama in 2012. Haney followed up with two more million-dollar donations in 2012 and 2014, both of which went to a committee run by former aides of then-Senate Majority Leader Harry Reid.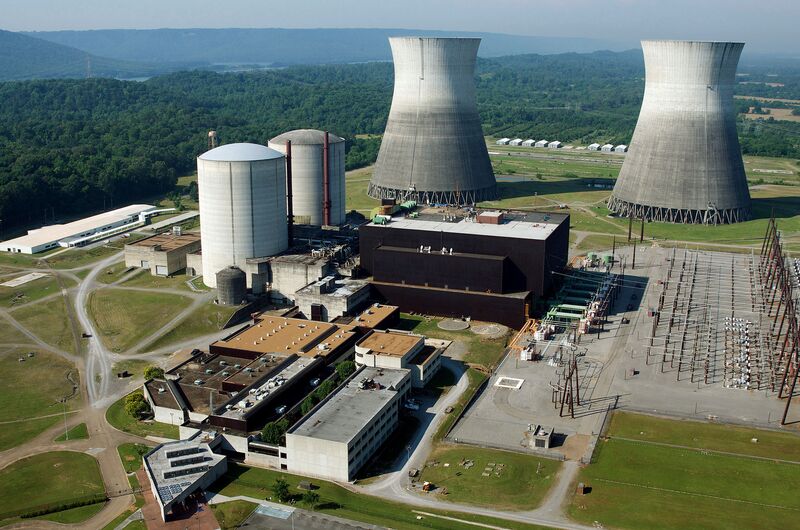 Between the first million and the third million, U.S. officials cleared Haney's company to eventually receive as much as $2 billion in tax credits for owners of nuclear plants that use advanced technology. Federal documents obtained by Bloomberg News show that the approvals came despite two complications: First, the plant in question depends on 40-year-old technology. Second, Haney didn't own it.
Haney ultimately purchased the unfinished, decades-old nuclear plant in northern Alabama at auction last November. Now, he has what may be an even bigger challenge — getting the mothballed plant into working order and finding customers for its power. That will require billions of dollars and some serious political help: For one thing, the tax credits he qualified for are set to expire in 2021, well before his facility could split its first atom.
While lobbying to extend the credits, Haney made a familiar political move: He gave a fourth million-dollar donation, this one to the inaugural fund of President Donald Trump.
Air Force One
Haney built a fortune and courted controversy over several decades by leasing office space to government agencies while contributing millions to mostly Democratic causes. His seven-figure contribution to Trump's inaugural fund in December reflected a pivot for a mega-donor who has flown on Air Force One with former President Bill Clinton and who gave to both of Hillary Clinton's presidential campaigns. More recently, he has bragged about his close ties to Trump, according to three people in the energy industry.
During meetings, he mentions that he has dined at least a dozen times with Trump since the election, said the people, who asked not to be named because Haney made the comments in private settings. Haney, who didn't respond to multiple requests for comment, is a member of Mar-a-Lago, Trump's private club in Florida. The White House referred questions to the U.S. Department of Energy and the National Security Council, neither of which responded to requests for comment.
Gaining Trump's support could be invaluable to Haney's nuclear ambitions. Over the next 18 months, Trump will have the authority to appoint five of the nine board members who oversee the Tennessee Valley Authority, the government-owned utility that supplies power to 9 million customers in seven states, including Alabama. TVA represents the most likely customer for Bellefonte's electricity, and Haney said in bid documents that he wants to sell power to the utility. But there's a problem: TVA has already decided it doesn't need Bellefonte.
TVA actually developed the plant and owned it until Haney bought it on Nov. 14. The utility's officials decided to sell Bellefonte after determining in 2015 that they wouldn't need its energy for 20 years. A new majority on the board could reverse course and decide to buy the plant's power. Scott Fiedler, a TVA spokesman, said the board is independent, and he declined to speculate on any future decisions.
Government Landlord
Haney, a Tennessee native, worked his way through college selling Bibles and ran for governor as a Democrat in 1974. His personal fortune, which has been estimated to top $1 billion, includes investments in office buildings leased by federal and state agencies in the Southeast and in Washington. He also invested in Virginia's Dulles Greenway Toll Road and made an unsuccessful attempt to purchase the Washington Nationals professional baseball team in 2005.
Haney's political giving came under federal scrutiny in 1998, when he was indicted on charges of evading campaign-contribution limits by allegedly routing more than $100,000 in contributions through friends and relatives. A jury acquitted him in 1999. Since then, courts have struck down some campaign-finance rules, clearing the way for far larger contributions to certain committees.
A few years after his acquittal, Haney began trying to get into the nuclear-power industry, at an unfinished site in the Alabama countryside. The Bellefonte plant includes two partially built nuclear reactors, cooling towers and other facilities on 1,400 acres. TVA began construction in 1974 — then abandoned it in 1988. Today, one of the units is about 55 percent complete, and the other is about 35 percent finished.
Haney's 15-year quest to own the plant reached a climax in November, when he won Bellefonte in an auction, bidding $111 million. The only other bidder planned to sell the plant's parts as scrap in India or elsewhere. Haney has two years to close the sale, which is conditional on his acquiring federal regulatory approvals and commitments for financing.
'White Elephant'
In the meantime, Haney has been lobbying officials on legislation that would extend the tax credit allocations that he'd already won for Bellefonte, federal lobbying disclosures show. But even if he wins an extension, many industry experts say they doubt Bellefonte can be profitable. Competition from low-cost natural gas and renewable energy sources has created difficult market conditions for nuclear plants nationwide. At least five have been retired in the past five years.
"There are so many fundamental flaws with it," said Stephen Smith, executive director of the Southern Alliance for Clean Energy, an environmental group. "From a need standpoint, from an infrastructure standpoint, from a licensing standpoint, this will never become an operating nuclear power plant."
Bellefonte is a "white elephant," according to a December research paper by Chris Gadomski, an analyst for Bloomberg New Energy Finance. "Skeptics would be justified in wondering how reviving 1960s-era nuclear reactors that have been questionably maintained for decades represents a viable economic opportunity," Gadomski wrote.
Haney, in his bid proposal, said the price of natural gas has been subject to large spikes, and his plant would offer a long-term source of power at an "attractive and non-fluctuating cost."
Alabama officials — including former Senator Jeff Sessions, before Trump appointed him attorney general — have broadly supported the idea of finally completing Bellefonte. Haney estimated that the project would create 8,000 to 10,000 construction jobs and more than 2,000 permanent jobs once the plant is operational.
And while it's unclear whether there's any demand for Bellefonte's power capacity, Haney got a good price on the plant and might be able to complete the reactors for less than it would cost to start from scratch, said David Blee, executive director of the U.S. Nuclear Infrastructure Council, an industry trade group.
The project might also appeal to Trump's administration, which is seeking to fund infrastructure projects as a means of boosting employment, he said. "This is tailor-made for that."
Tax Credits
To finish the plant, Haney has said he'll need at least $13 billion in financing. He also must have the Nuclear Regulatory Commission transfer long-deferred construction permits from TVA to his company. He'll need to find a plant operator, subject to NRC approval. The plant has to produce power and find customers for it. Only then can it start reaping the $2 billion in tax credits.
Legislation pending in Congress would eliminate the tax credits' 2021 deadline, but it would also allow new applicants to seek them. That would create new competition for the credits, which are capped at $6 billion and available to plants on a first-come, first-served basis. Haney has opposed the measure, the energy-industry people said. The House Ways and Means Committee announced that it will consider the bill during a hearing Thursday.
Currently, only two other applicants, Southern Co. and Scana Corp., have qualified for the advanced-technology nuclear plant credits, for facilities they're building in Georgia and South Carolina respectively. Haney's company was able to join them only by virtue of some unusual decision-making.
"If you asked me whether Bellefonte would qualify as advanced nuclear technology, I would have laughed," said Peter Lyons, a former assistant secretary for nuclear energy in the U.S. Department of Energy. Lyons, who retired in 2015, nonetheless helped certify the 1970s-era reactors for the tax credit in 2013 — based on what he described as a technicality.
The 2005 law that created the credits said a reactor's design would be considered advanced if the NRC approved it after Dec. 31, 1993 and if the design was not "substantially similar" to others already approved. The NRC had never approved Bellefonte's reactor design previously, nor any similar design.
The Internal Revenue Service, which approved the credits, didn't want a technical assessment — only a legal one, Lyons said. "In strict interpretation of that legislative language," he said, his agency "had to respond to the IRS saying, 'Yes, it would qualify."' The Department of Energy declined multiple requests to comment for this story.
'Very Troubling'
There was another issue: When Haney's company applied for the tax credit, it didn't yet own Bellefonte. Correspondence obtained by Bloomberg shows that U.S. senators Lamar Alexander and Bob Corker of Tennessee complained that in granting an allocation for Bellefonte, the IRS departed from statutory language that defines qualifying nuclear plants as those "owned by the taxpayer" seeking the credit.
IRS Commissioner John Koskinen wrote to the senators in an April 2015 letter that the law "does not expressly require that taxpayers own the facility when they applied" for the credit. Accordingly, Koskinen wrote, taxpayers negotiating to purchase a nuclear plant could be allocated tax credits, even though they wouldn't be able to exercise them until they owned the facility. The IRS echoed Koskinen's reasoning in an emailed statement to Bloomberg News, in which it noted that the agency's officials "met with multiple taxpayers who were negotiating the purchase of a nuclear facility" but wouldn't have completed their purchases in time to apply for the credit. The deadline for applications was Jan. 31, 2014.
Still, Corker and Alexander, who are both Republicans, called the agency's decision to allocate credits for Bellefonte "very troubling." They added that the agency's own guidance contained no reference to a "negotiating exception" for applicants.
When he applied for the tax credits in 2013, Haney was trying to buy Bellefonte. He'd organized a group of investors who planned to privately finance completion of the plant and then reap the tax credit along the way. TVA rejected that offer.
Neil McBride, who served as a director of TVA from 2010 to 2014, said Haney mounted "a very deliberate campaign" to sway the board at the time, including hiring a former senior leader in TVA's nuclear division and a former board chairman to lobby for him.
"The plan had very little support from the board and from the professional staff," said McBride, who described himself as "the most outspoken opponent" of Haney's plan. McBride wasn't reappointed to the board when his term expired in 2014.
Two years later, TVA listed Bellefonte, on which the utility had spent about $6 billion over the years, as surplus property and announced it would be sold at the auction that Haney's company ultimately won.
McBride questions whether Bellefonte will ever be viable. "Anyone operating a major, new plant like that would have to depend on TVA as a customer," he said.
by
and