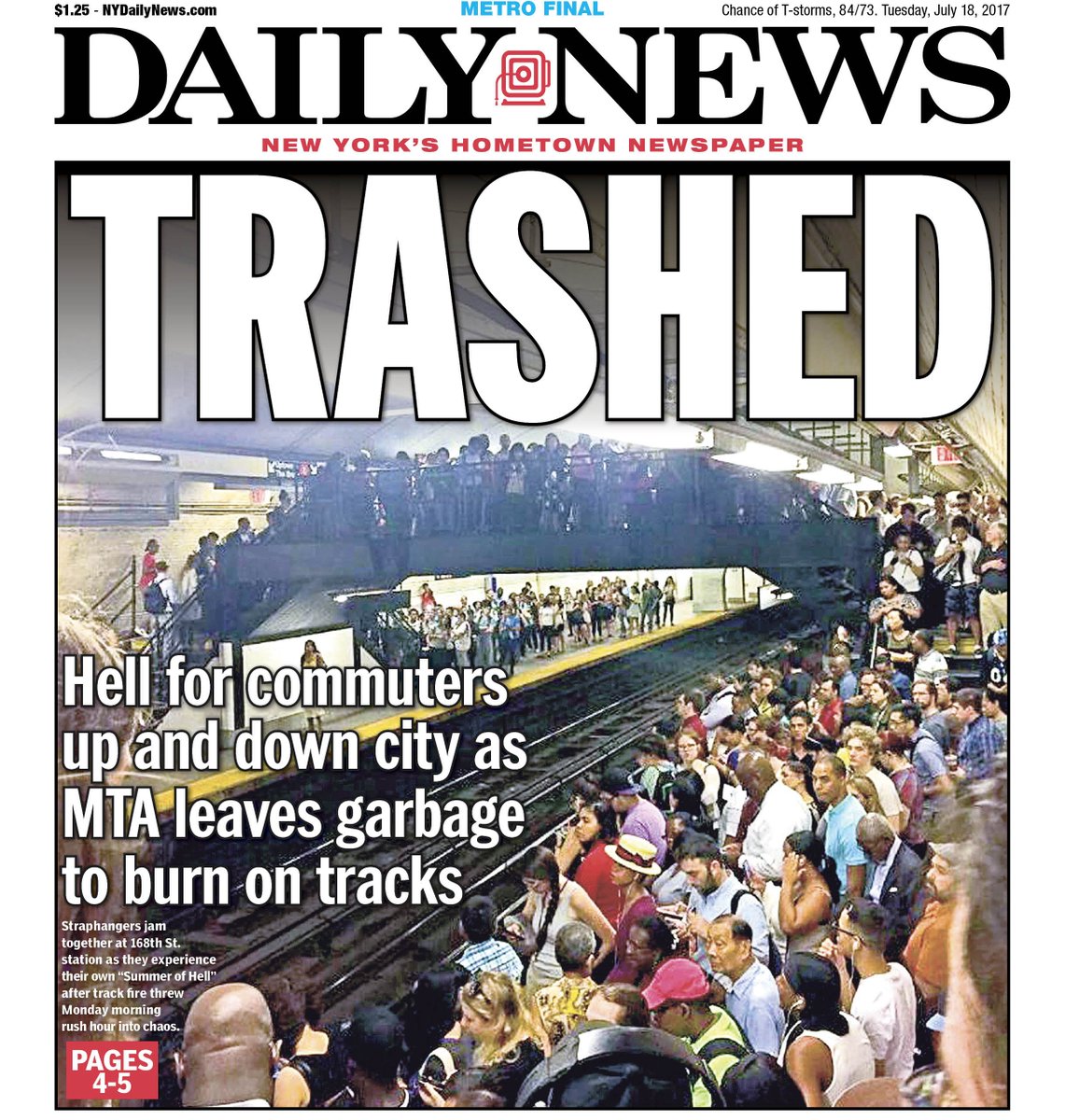 A track fire at the 145th St. station left morning commuters scrambling to find other routes, resulting in overcrowded subway stations and countless unhappy riders on Monday.
(NATALIE BRITO VIA TWITTER)
Thirty feet of train track trash caused the latest city subway disaster: a smoky blaze that trapped hundreds of panicked commuters on airless trains, kept thousands more stuffed in sweltering stations and forced the MTA to admit it must clean up its mess.
A pile of "extensive debris" in a tunnel along the subway tracks between 145th and 135th Sts. in Harlem caused the Monday morning chaos, sources told the Daily News.
Sparks ignited the fire that created the "smoke condition" a B train operator reported as he moved south at 7:18 a.m.
Moments later, NYC Transit's rail control ordered trains between 145th and 135 Sts. to turn off their air conditioning — which would suck the smoke into cars — and the A, B, C and D lines in Harlem ground to a halt.
By the time service was restored at 9:34 a.m., nine straphangers were at local hospitals suffering minor injuries — and MTA Chairman and CEO Joe Lhota found himself trying to pacify frustrated commuters. Again.
"Disruptions to service are unacceptable. We will do a better job, and we're working every single day to deliver on that promise," Lhota said.
He vowed renewed dedication to Operation Track Sweep and its teams of more than 500 employees meant to help keep tracks clear of garbage.
The MTA has also invested in 12 portable vacuums and will add three vacuum trains by the end of the year — all for the purpose of sucking up loose track debris and reduce subway fires, the chairman said.
"The urgency to improve service is felt throughout the MTA and that's why we're moving so fast to implement new technologies to deliver for customers," Lhota added.
The future may look bright, but the present was on fire Monday after subway track inspectors missed or dismissed a 30-foot-long trash heap near 145th St. — three weeks after an A trail derailed at the 125th St. station just 20 blocks away.
Transport Workers Union Local 100 President John Samuelsen said track maintenance crews file reports when garbage piles up — and track supervisors are supposed to dispatch cleaners.
But the recent derailment might have shifted priorities, Samuelsen noted, with supervisors putting possible track defect repairs above routine housekeeping.
A picture of the scene obtained by The News shows a trash-strewn section of burned wooden ties, pockmarked with charred residue.
Once the subway blaze was reported to the FDNY at 7:24 a.m., firefighters got on scene within five minutes, the department said.
While the fire itself wasn't massive, it filled the tunnel between 145th and 135th Sts. with heavy, choking smoke.
Roughly 60 firefighters struggled to douse the flames, which were nearly impossible to reach from the platforms.
NYC Transit ordered an A train to unload passengers at 145th St. and firefighters from Battalion 16 piled in.
With an operator piloting the makeshift "fire taxi," the subway brought firefighters to the blaze. But with the electrified third-rail still powered up, the firefighters had to do their work from the train.
A southbound D train — with its air conditioning shut off — was held in the tunnel while firefighters got water on the flames.
By 8:05, at least two passengers suffering in the extreme heat had requested medical help. At 8:33, the MTA cut power to the third rail so firefighters could safely walk on the trackbed.
Riders in one train stuck in a tunnel north of the 155th St. station had to walk through a separate train held at the station.
With train service above 125th St. knocked out, crowds of displaced riders hopped on the No. 1 line, clogging the local train.
Express A train service was cut from Inwood-207th St. to 125th St., and the local C line was knocked out entirely for the morning rush hour.
The local B line was shut down and the express D train was cut between Norwood-205th St. and 125th St., officials said.
Some D trains were stopping their trips at 36th St. in Brooklyn, W. 4th St.-Washington Sq. or 34th St-Herald Sq.