BEIRUT — Gunmen early Saturday stormed an office of a Syrian paramedic group that is active in opposition-controlled areas, killing seven of its members and stealing two vehicles and other equipment in a northwestern region, the group and opposition activists said, while a suicide attack south of the country killed at least 23 rebels.
The Syrian Civil Defense group, more popularly known as the White Helmets, said in a statement that the attack happened in the early hours in the town of Sarmin.
A member of the White Helmets mourns as colleagues bury his fellow comrades during a funeral in Sarmin, a jihadist-held town nine kilometres east of Syria's northwestern city of Idlib on August 12, 2017. OMAR HAJ KADOUR / AFP – Getty Images
No one immediately claimed responsibility for the rare attack but it came amid tension in the area. Sarmin is in Idlib province, which witnessed clashes recently between al-Qaida-linked fighters and members of the ultraconservative Ahrar al-Sham group that ended with al-Qaida fighters capturing much of the region.
The al-Qaida-linked Hay'at Tahrir al Sham — Arabic for Levant Liberation Committee, and also known as HTS — said over the past weeks that its members have discovered sleepers cells of the Islamic State group who were planning an attack. Al-Qaida's affiliate, which used by to be known as the Nusra Front, has fought deadly battles with IS over the past years.
The Britain-based Syrian Observatory for Human Rights said the seven were killed after being shot in the head, adding that the killings were discovered when volunteers from the White Helmets arrived to start a shift and found the bodies of their colleagues.
"Until now it is mostly likely a crime. It might also be an attack aimed to harm the image of the Nusra Front and to show that Idlib is not safe," said Rami Abdurrahman who heads the Observatory.
An opposition activist based in Idlib who has been providing The Associated Press with information about the province for years said the attackers used pistols equipped with silencers, adding that people living nearby did not notice anything unusual.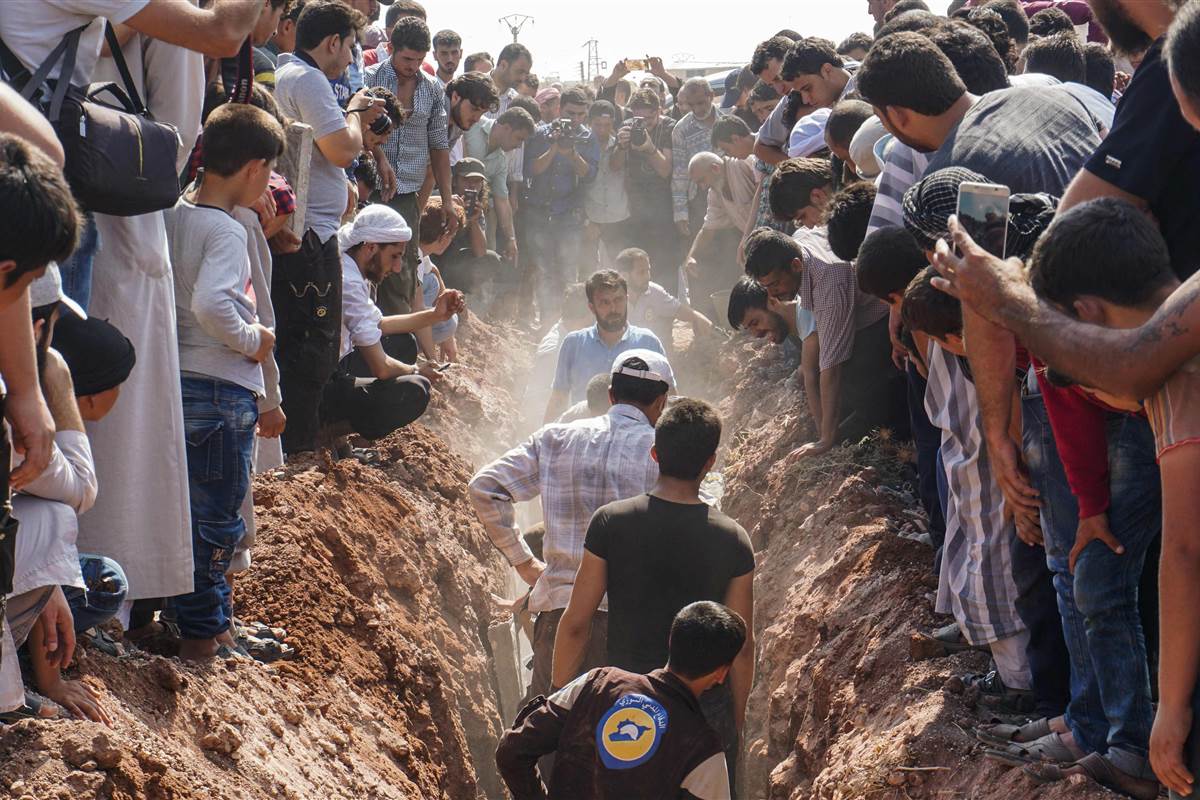 Members of the Syrian civil defence volunteers bury their fellow comrades during a funeral in Sarmin on August 12, 2017. OMAR HAJ KADOUR / AFP – Getty Images
The activist, who asked that his name not be used for fear of reprisals, said IS sleeper cells have been discovered in Sarmin. He added that most likely members of IS carried out the attack to show that Idlib is not safe.
The activist said the HTS-linked Judicial Committee is investigating the case.
Sarmin used to be a stronghold of the Jund al-Aqsa extremist group that clashed with al-Qaida last year before many of its members were allowed to head to areas controlled by IS, whom they are fighting now.
The Syrian first-responders have been known to risk their lives to save people from the civil war, now in its sixth year. The White Helmets group was widely considered likely to win last year's Nobel Peace Prize.
Elsewhere in Syria, a suicide attacker blew himself inside a training camp for the Army of Islam rebel group in the southern town of Naseeb, near the border with Jordan, killing more than 20 fighters.
The Observatory said Saturday that the Friday night blast killed 23 and wounded 20, some of whom were in critical condition.
Ahmad al-Masalmeh, an opposition activist based in the southern province of Daraa, said about 80 Army of Islam members were having dinner inside a tent when the suicide attacker walked in and blew himself up. He said 30 were killed, 20 were wounded and six are still missing.
No one claimed responsibility for the deadly bombing but IS has previously claimed such attacks.
by ASSOCIATED PRESS
AUG 12 2017, 11:03 AM ET