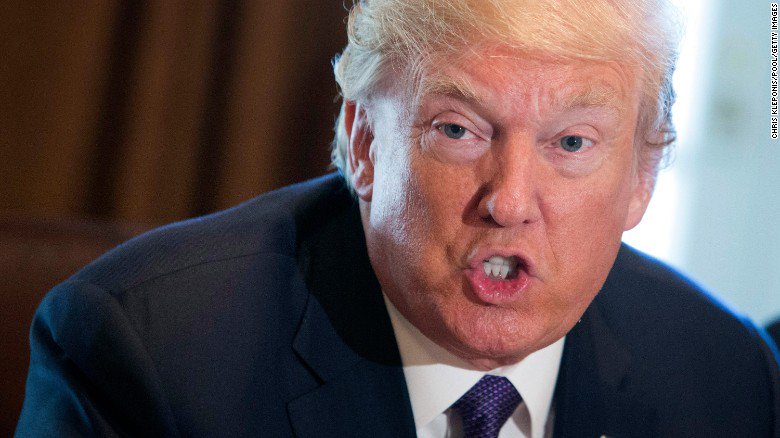 "Bob Corker, who helped President O give us the bad Iran Deal & couldn't get elected dog catcher in Tennessee, is now fighting Tax Cuts," 
Trump
tweeted
. "Corker dropped out of the race in Tennessee when I refused to endorse him, and now is only negative on anything Trump. Look at his record!"
Trump's tweets are a) not true b) come in response to Corker's appearance on several morning TV shows today. Trump, according to CNN's reporting, not only asked Corker to run again but said he would endorse him and campaign with him. Corker decided to retire anyway — and has turned into a major Trump critic.
"It appears to be the governing model of this White House to purposely divide," he said on "CBS This Morning."
 He later tweeted
 in response to Trump's attacks: "Same untruths from an utterly untruthful president. #AlertTheDaycareStaff"
Trump's early morning tweets are also not the first time he has attacked Corker. And it's far from the first time he has gone after a Republican senator — even as he will need each and every vote to get his tax-reform package pass.
By my count, Trump has personally attacked 11 senators — or, roughly, 21% of the entire 52 person GOP conference between his time as a candidate and his nine months in the White House. That's more than 1 in 5!
Here's a list of the senators — and what Trump has said about each. They are listed in alphabetical order.
* 
Bob Corker (Tennessee)
: See above. Also,
 this gem
 from earlier this month "Senator Bob Corker 'begged' me to endorse him for re-election in Tennessee. I said 'NO' and he dropped out (said he could not win without my endorsement). He also wanted to be Secretary of State, I said 'NO THANKS.' He is also largely responsible for the horrendous Iran Deal!" Corker has implied that Trump is badly out of his depth, someone who can't (or won't) tell the truth, and a person who, given free reign, would plunge the country into chaos.
* 
Lindsey Graham (South Carolina)
: After Graham was critical of Trump's statement following the Charlottesville, Virginia, white supremacist violence, Trump
 tweeted this
:
"Publicity seeking Lindsey Graham falsely stated that I said there is moral equivalency between the KKK, neo-Nazis & white supremacists and people like Ms. Heyer. Such a disgusting lie. He just can't forget his election trouncing. The people of South Carolina will remember!" (Trump crushed Graham in his home state of South Carolina's presidential primary.) Graham and Trump appear to have made up; the two men played golf together earlier this month.
* 
Dean Heller (Nevada): 
The last time 
Trump met with the entire group of GOP senators was in July on healthcare
. In that meeting, he issued a not-very-veiled threat to Heller who faces a primary challenge from his ideological right. "This was the one we were worried about," Trump said, referring to Heller who was sitting next to him. "You weren't there. But you're gonna be. You're gonna be. Look, he wants to remain a senator, doesn't he?"
* 
John McCain (Arizona)
: No Republican senator has clashed more — and for longer — with Trump than McCain. 
The two have had a very sketchy relationship since the summer of 2015
when Trump said that he didn't consider McCain a real war hero because he had been captured. (McCain was held in a North Vietnamese prison camp — where he was beaten and tortured — for more than five years. After McCain voted against Trump's preferred vehicle to repeal and replace Obamacare, 
Trump lashed out via Twitter
; "John McCain never had any intention of voting for this Bill, which his Governor loves. He campaigned on Repeal & Replace. Let Arizona down!"
*
 Lisa Murkowski (Alaska)
: After Murkowski joined with McCain and Sen. Susan Collins of Maine in voting against the repeal and replace effort, Trump sent t
his tweet
: "Senator @lisamurkowski of the Great State of Alaska really let the Republicans, and our country, down yesterday. Too bad!"
* 
Rand Paul (Kentucky)
:
 Paul and Trump have developed a close relationship
 over the the last few months of 2017. But, it wasn't always so. "Rand Paul is a friend of mine but he is such a negative force when it comes to fixing healthcare," 
Trump tweeted last month
. "Graham-Cassidy Bill is GREAT! Ends Ocare!" And, during the presidential campaign, Trump seemed to relish going after Paul despite the fact that the Kentucky senator was no more than a blip in the polls. "First of all, Rand Paul shouldn't even be on this stage," 
Trump said at a debate in September 2015
. "He got number 11. He's got 1 percent in the polls and how he got up here – there's far too many people anyway."
*
 Marco Rubio (Florida)
: "Little" Marco was a prime Trump target during the 2016 campaign. "Rubio is weak on illegal immigration, with the worst voting record in the U.S. Senate in many years. He will never MAKE AMERICA GREAT AGAIN!," 
Trump tweeted in March 2016
. "I will be using Facebook and Twitter to expose dishonest lightweight Senator Marco Rubio," 
went another Trump tweet.
 "A record no-show in Senate, he is scamming Florida."
* 
Ben Sasse
 (Nebraska): Trump hasn't attacked Sasse by name much — but when he did it was a classic. ".@BenSasse looks more like a gym rat than a U.S. Senator. How the hell did he ever get elected?," 
Trump tweeted in January 2016
.
The problem with all of these attacks is, well, math. Republicans can only afford to lose two votes on any piece of legislation — assuming (as we should assume) they don't get any Democratic votes. Personally insulting senators doesn't mean they will absolutely oppose Trump's agenda but it sure as hell doesn't help.
All of which reinforces this simple fact: The secret of Trump's strategy — in Congress and everywhere else — is that there is no strategy.
Updated 10:01 AM ET, Tue October 24, 2017