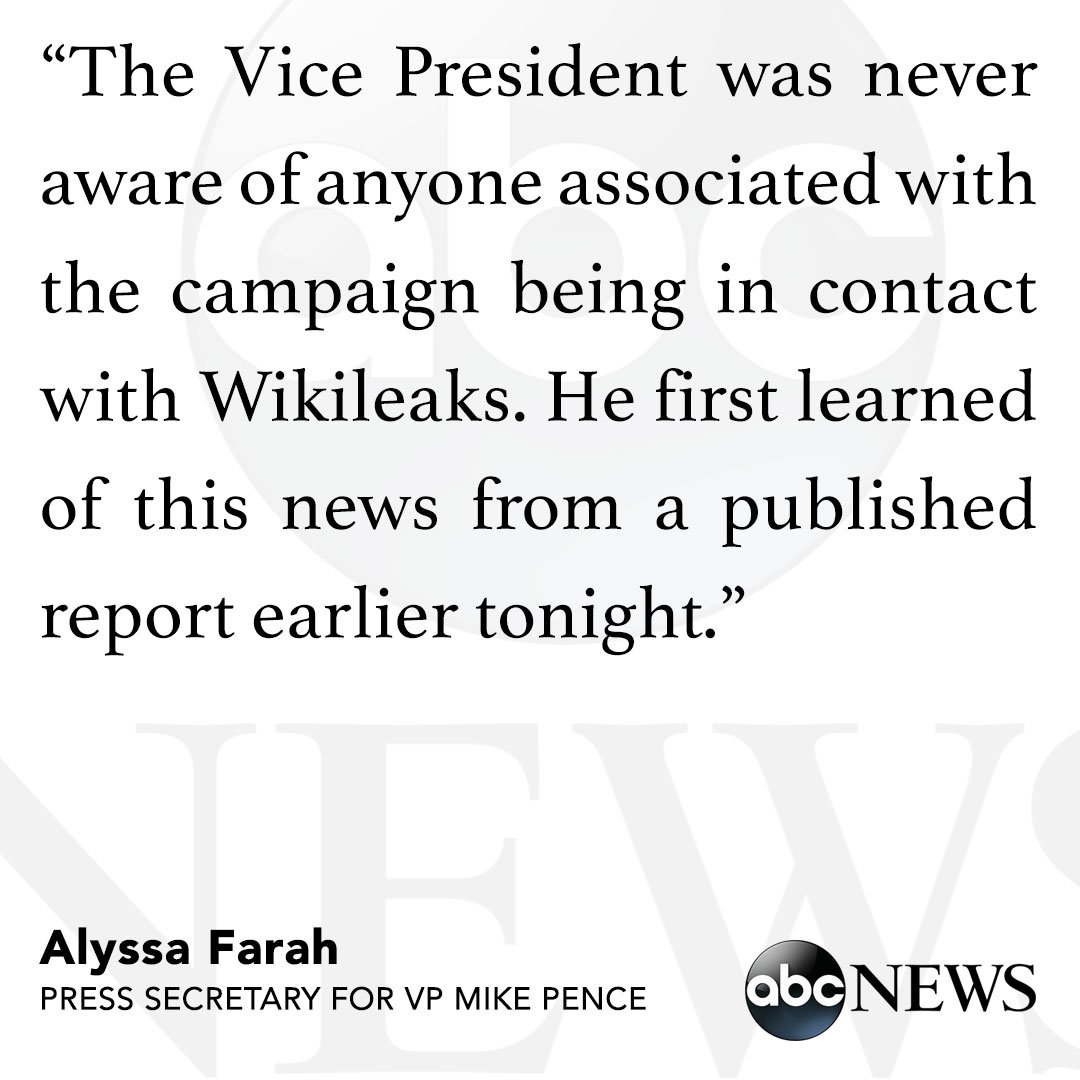 Rep. Adam Schiff, D-California, the top Democrat on the House Intelligence Committee, told ABC News the direct message exchange is "yet another indication of the campaign's willingness at the very highest levels to accept foreign assistance, to accept assistance here with a cutout of the Kremlin that is publishing stolen documents that were obtained by a Russian hacking of Hillary Clinton's campaign."
"We just see this web of connections becoming more and more extensive."
The vice president's office said Mike Pence was not aware of Trump Jr.'s communications with WikiLeaks, given that in October of 2016, Pence forcefully denied any coordination between WikiLeaks and the Trump campaign.
"The vice president was never aware of anyone associated with the campaign being in contact with WikiLeaks. He first learned of this news from a published report earlier tonight," Pence's press secretary Alyssa Farah said in a statement.
WikiLeaks founder Julian Assange tweeted that he couldn't confirm the communiques to Trump Jr.
I cannot confirm the alleged DM's from @DonaldJTrumpJr to @WikiLeaks. @WikiLeaks does not keep such records and the Atlantic's presentation is edited and clearly does not have the full context. However, even those published by the Atlantic show that: 1/
I cannot confirm the alleged DM's from @DonaldJTrumpJr to @WikiLeaks. @WikiLeaks does not keep such records and the Atlantic's presentation is edited and clearly does not have the full context. However, even those published by the Atlantic show that: 1/
WikiLeaks loves its pending publications and ignores those who ask for details. Trump Jr. was rebuffed just like Cambridge Analytica. In both cases WikiLeaks had publicly teased the publications. Thousands of people asked about them. 2/
WikiLeaks loves its pending publications and ignores those who ask for details. Trump Jr. was rebuffed just like Cambridge Analytica. In both cases WikiLeaks had publicly teased the publications. Thousands of people asked about them. 2/
WikiLeaks can be very effective at convincing even high profile people that it is their interest to promote links to its publications. 3/
WikiLeaks can be very effective at convincing even high profile people that it is their interest to promote links to its publications. 3/
WikiLeaks has such chutzpah that it allegedly tried to convince Trump Jr to leak his father's tax returns & his own "Russian lawyer meeting" emails (he did). WikiLeaks appears to beguile some people into transparency by convincing them that it is in their interest. 4/
WikiLeaks has such chutzpah that it allegedly tried to convince Trump Jr to leak his father's tax returns & his own "Russian lawyer meeting" emails (he did). WikiLeaks appears to beguile some people into transparency by convincing them that it is in their interest. 4/