A Ramshorn hook is a shank hook with two throat openings, sometimes called sister hooks, double hooks or twin hooks. They are used in applications with shipyard cranes and container cranes. Ramshorn hooks can be used on any type of crane block.
Why Use a Ramshorn (Double) Hook?
Ramshorn hooks offer many benefits to the user. Not only do they allow for better rigging options due to the wider profile and double throat combination, they also provide better load distribution when using multiple slings in a rigging application.
Featuring an additional throat opening, Ramshorn hooks prevent slings from bunching up as they more frequently do with single hooks. This second throat also helps to prevent sling damage when under load. Featuring a wider hook profile, as compared to single hooks, Ramshorn hooks allow for more stable load control when properly rigged. The wider profile also provides better load distribution and allows for more controlled lifts.
Compared to single hooks, Ramshorn hooks commonly have a smaller frame with a much higher capacity, helping to reduce the weight of the overall crane lifting gear.
Not all Ramshorn Hooks Are Created Equal.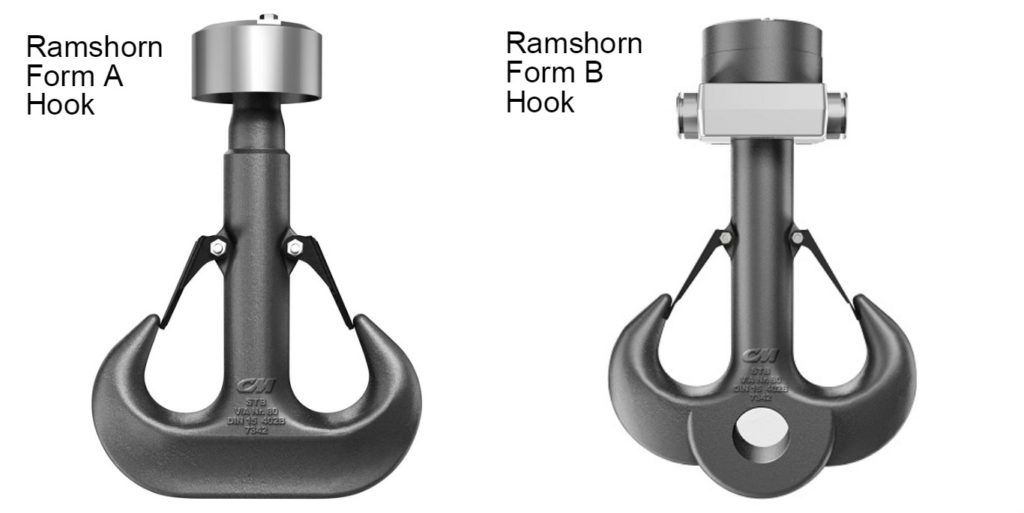 There are two types of Ramshorn hooks: the Ramshorn Form A hook, which has a solid lower hook design, and the Ramshorn Form B hook. Columbus McKinnon offers the Form B version because of its versatility. This hook provides all the advantages as mentioned above with the addition of a hole in the lower hook to attach rigging hardware. This feature gives the user the option to change their double hook into a sling hook if so desired.
All Ramshorn hooks are manufactured to DIN 15402 standards. Just like our single hooks, these double hooks can be furnished in various configurations including unmachined, machined, and machined with nuts for full suspensions.
In 2015, Columbus McKinnon acquired Stahlhammer Bommern GmbH (STB), the leading manufacturer of heavy-load single and ramshorn hooks in Europe. Now available in North America, our offering includes a comprehensive line of CM Shank Hooks in both single- and double-hook configurations.
By
|