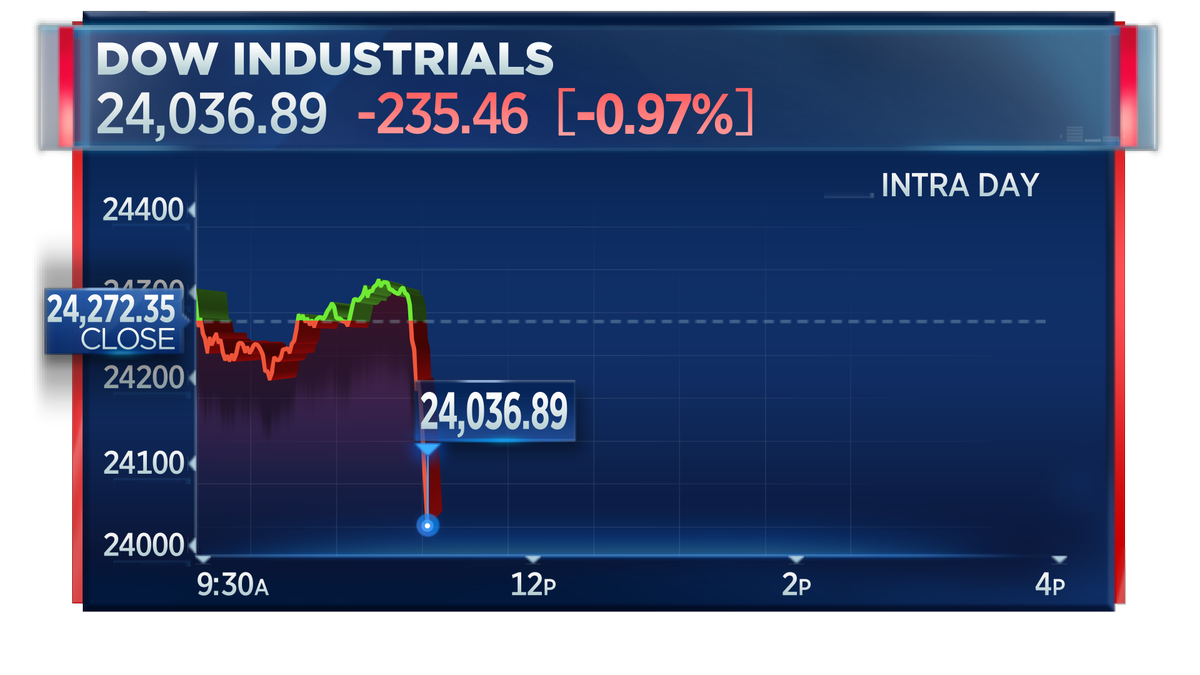 Stocks fell Friday on a report that Michael Flynn was directed by President Trump to talk to Russians.
ABC News reported that Flynn, the former national security adviser, would testify that he was directed to make contact with the Russians.
In a statement, Flynn said he agreed to "cooperate with the Special Counsel's Office reflect a decision I made in the best interests of my family and of our country."
"If you believe the market has been rallying in the last 13 months [on Trump, this report] potentially unravels all of that," said Jeremy Klein, chief market strategist at FBN Securities. "Markets don't like uncertainty and this is the ultimate uncertainty."
The major averages hit their session lows on the report, with the Dow Jones industrial average briefly dropping more than 350 points before trading 133 points lower.
The S&P 500 declined 0.7 percent after falling more than 1 percent. The Nasdaq composite lagged, dropping 1.1 percent
Gold and Treasuries spiked higher following the ABC report as investors fled to market safe havens.
"It comes down to did trump obstruct justice in any way," said Peter Boockvar, chief market analyst at The Lindsey Group. "It's another potential political blindside. We've gotten a lot of those," he said.
But it appears many investors were willing to bet that the Flynn report does not mean the Mueller probe would lead directly to Trump and derail his presidency and economic agenda. Stocks pared their losses after Senator Mitch McConnell told reporters that they had the votes to pass the Senate tax bill.
Senate had Republicans delayed voting on their tax bill Thursday, sending stock futures lower. The setback concerned a fiscal "trigger" that forced lawmakers to patch up the plan only hours before a planned final vote.
But futures cut their losses as the Senate showed signs of progress on coming to an agreement on a tax measure.
Republican Senators Steve Daines and Ron Johnson — two of the last GOP holdouts on the bill — said they would support the measure, increasing the likelihood of it passing.
Expectations of lower corporate taxes have been a boon for U.S. stocks since President Donald Trump got elected, helping the major indexes reach all-time highs. Jeff Carbone, managing partner of Cornerstone Financial Partners, said that, without a corporate tax cut, stocks could suffer a 3-to-5 percent pullback in the short-term.
If the Senate's bill passes, House and Senate members would have to work on a new bill to reconcile differences between their two tax bills.
Bruce Bittles, chief investment strategist at Baird, said the market realizes "the Republican party wants to get this done one way or the other," but added that "the big question is how much of this is already built into the market."
"We're sitting at all-time highs and I wouldn't be surprised if we took some [gains] off the table" after the corporate taxes are cut, Bittles said.
In corporate news, shares of Mylan jumped 4.6 percent after CNBC reported that Amazon has held preliminary talks with generic drug makers about a potential entry into pharmaceuticals.
Ulta Beauty was the worst-performing stock in the S&P 500, falling 7.5 percent after the cosmetics retailer issued weaker-than-expected guidance for the current quarter.
BY: Alexandra Gibbs | Fred Imbert
12/1/2017
—CNBC's Jacob Pramuk contributed to this report.