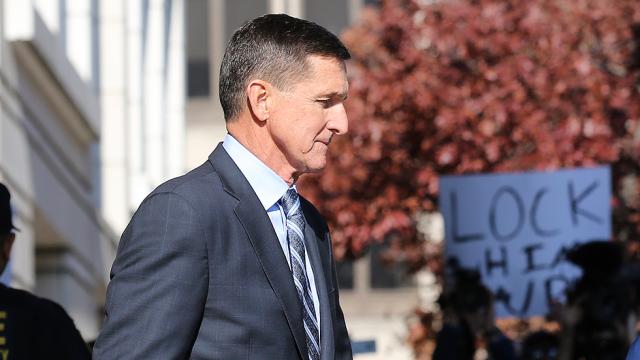 The judge who took a guilty plea from President Trump's former national security adviser Michael Flynn last week has recused himself ahead of a sentencing hearing.
A court spokeswoman confirmed to Politico and other outlets that the case was reassigned after Judge Rudolph Contreras, an appointee of former President Obama, recused himself.
Judge Emmet Sullivan, an appointee of former President Clinton, was randomly selected to take his place in the case.
The switch comes after Flynn pleaded guilty to lying to the FBI about his contacts with Russians in the month before Trump took office.
Flynn's guilty plea is the most dramatic development yet in special counsel Robert Mueller's probe into Trump campaign associates' ties to Russia.
Flynn has agreed to cooperate in the investigation led by Mueller, who has also secured indictments against three other former Trump campaign associates, including former Trump campaign chairman Paul Manafort.
The sentencing hearing for Flynn has yet to be scheduled.
The former Trump adviser and Defense Intelligence Agency director was ousted from the White House in February after misrepresenting his conversations with Russian Ambassador to the U.S. Sergey Kislyak.
According to court documents, Flynn had asked the ambassador before Trump's inauguration to refrain from escalating the situation after then-President Obama announced sanctions against Moscow following its election meddling.
Trump has claimed that he fired Flynn after the adviser lied about the conversations to Vice President Pence. Flynn was fired after serving only 24 days in the White House.
BY JOSH DELK – 12/07/17 07:44 PM EST