Russia's President Vladimir Putin has ordered a daily humanitarian pause in fighting in the Eastern Ghouta enclave in Syria.
It will start on Tuesday, and include the creation of a "humanitarian corridor" to allow civilians to leave.
The rebel-held area has been under intense bombardment by the Syrian government, with Russian backing, for over a week.
It has led to more than 550 deaths, according to a monitoring group.
Russian Defence Minister Sergei Shoigu made the announcement, saying the ceasefire would run from 09:00 until 14:00 local time daily.
He said more details on the corridor would be released soon.
The United Nations Security Council unanimously called for a 30-day ceasefire on Saturday.
The resolution demanded that "all parties cease hostilities without delay" to allow aid deliveries and medical evacuations.
Russia had been accused of delaying the UN vote for several days by asking for changes to be made to the draft.
UN Secretary-General Antonio Guterres has described the situation as "hell on Earth", and demanded immediate action.
What is the aim of the UN resolution?
The UN resolution applies to the whole of Syria.
However, the primary intention is to stop the government attacks on the Eastern Ghouta, where some 393,000 civilians are trapped.
Rebels in the enclave would also have to stop firing shells into Damascus, an act that has also killed civilians.
The resolution allows operations against groups that the UN regards as terrorists, including the Islamic State (IS) jihadist group, to continue.
On Sunday, air strikes by a US-led multinational coalition against IS killed at least 10 civilians in the eastern province of Deir al-Zour, according to activists.
What is happening now in the Eastern Ghouta?
The Syrian Observatory for Human Rights, a UK-based monitoring group, said 31 people have been killed in the enclave since UN resolution passed.
On Monday, 17 people were killed in air and artillery strikes on the towns of Douma and Harasta, it said.
The Syria Civil Defence, a rescue organisation whose volunteers operate in a number of rebel-held areas, said nine civilians had been killed in a strike on one building in Douma.
Casualties were also reported following what the opposition newspaper Enab Baladi reported was a ground offensive by pro-government forces that rebels repelled.
The official Sana news agency meanwhile cited police as saying a civilian had been injured in the government-controlled Qassa area of Damascus by shells fired by Eastern Ghouta rebels.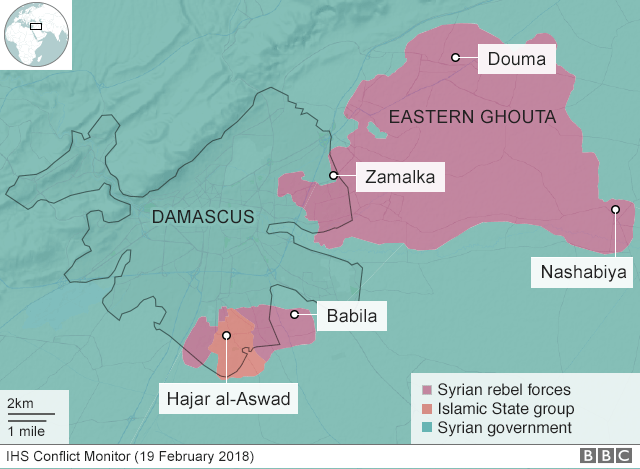 Was there a chlorine attack on Sunday?
Ambulance drivers reported a chlorine smell after a bombardment air strike in the town of al-Shifuniya.
Workers within the opposition-run health ministry said there had been admissions on Sunday of people suffering symptoms consistent with exposure to chlorine gas.
They said 18 people had been treated "with oxygen nebulising sessions", that one male infant had died, and that a four-month-old baby was on a ventilator.
It was unclear whether the boy's death was related to gas or the explosion.
The Syrian American Medical Society, a relief organisation, also told the BBC there were patients "suffering from symptoms indicative to exposure to chemical compounds".
None of reports could be independently verified.
Russian Foreign Minister Sergei Lavrov said on Monday that "bogus stories" about the use of chlorine were a "provocation" intended to sabotage the UN resolution.
The Syrian government has repeatedly denied using chemical weapons.
However, a joint investigation by experts from the UN and the Organisations for the Prohibition of Chemical Weapons concluded two years ago that government forces had used chlorine as a weapon at least three times between 2014 and 2015.
The experts are also confident that government forces used the nerve agent Sarin in an attack on the northern rebel-held town of Khan Sheikhoun last April, killing more than 80 people.
From: BBC
2/26/2018